At True Power Realty, we go far beyond rent collection and property inspections. Our goal is to maximise your rental return and capital growth.
In this article we provide a list of tips and tricks to help you get your rental property ready for market. We also provide tips on how to increase your weekly rental income.
Getting Your Investment Property Ready to Rent
If you are renting your home for the first time, or you are seasoned investor, it's a good idea to have your property cleaned and well presented before listing.
Ticking these steps off will ensure you attract a wider pool of quality tenants. If you need help to get your property ready for lease, True Power Realty has a team of trades who can get your property look its best.
House Electrical Inspection
A certified electrician is needed to check your property's switchboard, wiring, lights, light switches, power points, and built in appliances. Ensure everything is working and safe to use before your tenants move in. This is particularly important in the wet areas including the kitchen, bathrooms, and laundry.
House Plumbing Inspection
A certified plumber is needed to check the plumbing system, drainage, and gas services. Qualified plumbers can clear drains, fix back flow issues, repair and replace hot water systems. Plumbers who specialise in gas fitting services can also install and repair gas heating and kitchen appliances.
Clean Walls With Sugar Soap
On most occasions cleaning dirty marks can be cleaned with a soft cloth and sugar soap. However, if there is damage, patch the wall and then repaint it.
Remove Mould in the Home
Mould is sneaky stuff and can get into bathrooms and other wet areas. If cleaning the surface doesn't work you could have a water leak that needs fixing before you repaint the surface.
Clean Skirtings, Doors, and Window Frames
Clean off dust and marks on your skirtings, doors, and windows. The skinny nozzle with the brush for your vacuum is perfect for this job.
Clean and Repair Fly Screens
Use a damp cloth to wipe away dust on your window screens and replace broken flyscreen mesh. Installing security screens for the front and back doors will also help keep your property safe.
Clean Kitchen Surfaces
Pretty much every surface in your kitchen will need a thorough wipe. Make sure to clean the splashbacks, rangehood, oven, stove, sink, and the inside and outside of cupboards and drawers.
Clean Bathrooms
All surfaces will need to be thoroughly cleaned in the bathrooms and ensuites. This includes the sinks, mirrors, taps, cupboards, and drawers.
Clean Laundry Room
Be sure to give any hidden areas a check as there can be a lot of moisture that builds up inside of a laundry. Check around and underneath the tub and make sure any tap-wear is clean and polished.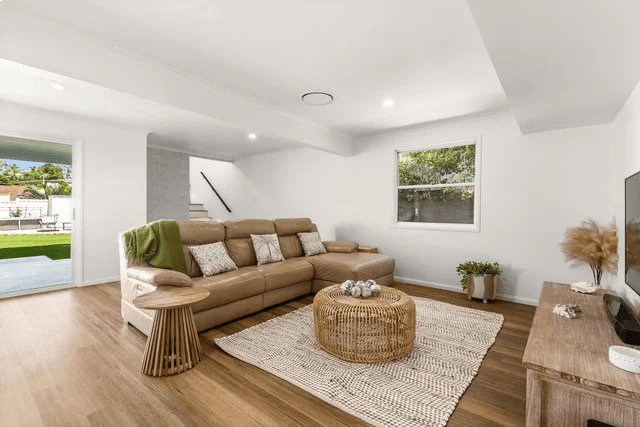 Cleaning the Bedrooms and Living Areas
Once you have cleared out all bedroom and living area cupboards, it is time to get the vacuum busy on the carpets. We recommend having your carpet areas are professionally cleaned.
Fans and Air Conditioning Cleaning
Cleaning air conditioning filters and fan blades can be overlooked when homeowners and tenants leave a property.To ensure a good impression with the incoming tenants, make sure these are clean and dust-free. If dust and grime is left on surfaces the incoming tenant may only be obliged to leave the property in the same state.
Clean Light Fittings
It's also a good idea to wipe down the light switches and to give the light shades a dust.
Curtains and Blinds
Give everything a good clean. Be sure to dust all blinds and the fabric curtains may need to be dry-cleaned. Also replace malfunctioning tracks or chains.
Clean Floors and Vacuum Carpets
Before vacating the property ensure that a thorough clean is done professionally. Dust or wipe the tiles and wooden floors with a lightly dampened mop and vacuum all carpets surfaces including the stair case.
Once the property is tenanted, True Power keeps a record of receipts each time a commercial clean is organised between tenancies.
Lawns and Gardens
Give the lawns a mow, take care of the edging, and remove weeds from the garden beds. It's also a great time to trim back all of your shrubs and mulch the garden beds.
Clean Dirty Gutters
Getting up on a ladder can be dangerous so it's best to call on professional help. Ask your trade to also clear the down pipes to save any hassle later on with blocked drains or pest infestations.
Weed Garden and Paths
Be sure to tidy up the garden and remove weeds. Also remove weeds that are growing between pavers, on garden paths, and in cracks on the driveway.
Gurney Paths and Driveways
Finish up by giving your paths and driveways a pressure clean with a gurney. Cleaning these areas will have them looking next to new.
Clean Dust and Cobwebs in Garage and Sheds
It's easy to forget to check the garage, storage areas, and outdoor sheds. Give them a thorough clean out, sweep the floors, and make sure any cobwebs are removed.
Professional Pest Control
Do you have termites, spiders or other creepy crawlies lurking in your home? Insect infestations can damage your property and impact your rental income stream.
For effective pest control, hire a professional pest controller to treat your door and window frames, cracks, and crevices that can be natural traffic areas for insects and house vermin.
Natural pest control methods
Natural pest control methods can also get rid of uninvited inhabitants. Jodi and I have used a completely natural spray for years with a 100% success rate. It's reassuring on the mind especially if you have kids. This natural solution can also be a top selling point for prospective tenants. Be sure to provide a receipt and we can keep this on record for your convenience.
Have You Been Living in the Property?
If you are leaving your family home it is a good idea to redirect your mail and disconnect or cancel your utilities before renting it out.
Once the property is vacated and cleaned, at least two sets of all window and door keys should be provided to the property manager. Copies of appliance manuals should also be provided to your landlord and tenants. These manuals will help your tenants to use the applicates correctly, and it will reduce unnecessary tradie call outs.
Clean, Safe and Working
Apply these three words as a guide for every part of your property and you will be all set!
Provide a great experience for your tenants. Whether it's a DIY job or professionally done, it's a small investment for a considerable benefit.
What Our Clients Say
"I just want to take this opportunity to write a review of how much I appreciate the help of Andrew from True Power Realty.
I am currently residing in Melbourne and had an investment property in Brisbane. For many years, I have been unhappy with the previous real estate agent who was managing my property. The tenant seemed to be having complaints about the house all the time and the agent would report things to fix almost every second month.
It was frustrating for me as I was not able to personally inspect the property to see whether these were real "issues" or not. The agent seem extremely pushy for things to be fixed and quotes would come back to be a lot higher than industry standards. Like many people out there, I was reluctant to change agency thinking that "they would all be the same" I felt like I had no choice and was stuck with this agent until I picked up the courage to contact True Power Realty.
When I first contacted Andrew and explained my situation, he was so patient and helpful with all the questions that I had. I could tell that he was genuine and not another one of those agent who just wants the business. He gave me alt the advice that I needed and helped me with the transition.
It wasn't an easy transition as Andrew had to follow up on many of the "repair needs" that the previous agent has claimed that the house needed. However, to my delight, Andrew came back with much more reasonable quotes/solutions for the house and the rest is history because things have been going so smoothly since he took over the management.
I really cannot emphasise how grateful I am to have found True power realty. I highly recommend their service. If you feel like "all agents are the same" and felt stuck like me, do not despair, because there are good agents out there like Andrew who truly cares!"
Carmen C – Suburb, Brisbane